We are very excited to announce our new pet portrait package, the Sleep and Pose!  Having recently discovered the amazing work of Jennifer Colbron on Instagram, we just knew it was time to connect. It was her work with dogs that made us sit up and take notice!  Jennifer seems to be able to just get that look in the eyes that reaches out of the canvas and positively speaks to you! Her style is eclectic – stunning in it's detail, or delightfully whimsical but still bringing through the true character of the subjects she paints.
Jennifer's watercolour and ink pieces are heavily influenced by the colours and textures of the Colac / Otway district. Jennifer has a particular passion for capturing the unique personalities of animals through expressions and poses. She enjoys finding the movement and sometimes chaotic natures of her subjects through interesting poses.  Adding to her busy life of part time teaching, mum to two little darlins, amazing wife and woman in general, Jennifer is one of those lucky human beings who can just sit down and produce something of absolute beauty.  Man.  I'm just a bit jealous.
Here is a before and after…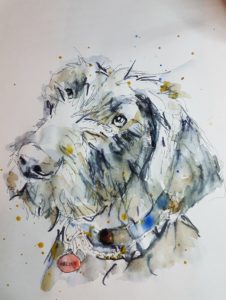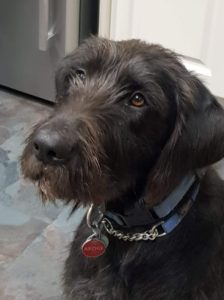 We want you to be able to get in on this lovely action.  So, if you have been wanting a gorgeous new piece of art on your wall AND know just the poser to put up there, this is the package for you!
Between us, we've worked out some incredible introductory rates just for our lovely lovers of Countrywide Cottages.  I'm pretty sure they can't last at this price for too long, so make sure you don't miss out.
Send her your favourite photos of your pet, mention the code CWCINTRO for these great deals and lock in your pet portrait package today.  All work supplied unframed, but in transport friendly packaging.    Make sure you give Jennifer a minimum of 2 weeks prior to your booking with us and she will deliver your lovely new piece of artwork here in time for your arrival.  Or – if you just can't wait till your booking to stay with us, you can always get one sorted before then.  We promise not to be cross!
Paper size                                                      A4                         A3                   760 x 570mm
Ink wash with/without colour                     $100                     $200                     $300
Charcoal                                                         $200                     $250                     $280
Detailed watercolour/ink                            $300                     $350                     $380
For more info, slip over to our Sleep and Pose Package page.   To discuss or arrange a commission, please contact Jennifer directly via email, or direct message via Facebook or Instagram