The 2019 Surfcoast Arts Trail is upon us!

In it's eighth year running, the amazing work of artists across our region is back on display in the 2019 Surfcoast Arts Trail, August 10 and 11.  And what a show it promises to be yet again!
Spread across the region from Torquay to Lorne and inland as far as the lovely little village of Winchelsea, there is a variety of genres and individual flavours that is sure to knock your socks off.  Beware though, it's a rare venture out onto the Trail that we don't come back with a new treasure or two!  Just make sure that credit card is in good working order.
Some of our favourites over the years have been the The Store Deans Marsh which will again host the works of Veronica Phillips, one of our own who puts a great deal of effort into her local community with her woven teepees and working with the school kids. Others will also be displaying their work and there will be demonstations of printmaking and woodcarving throughout the weekend.
There are many amazing venues in Winchelesea and surrounds – check out Ron Talbots huge impressionist acrylics at Red Door Studio.  Riverlee Studio Artists, Still Point Studio, Vronxart Studio Gallery and Sweet Thyme Cafe will host some of our many very local artists.
Studio 66 in Angelsea will be showcasing the fabulous metal curly sculptures of Cinnamon Stephens and her partner Rowan.  Keep your eyes peeled across the region for examples of her works in the streetscapes.
The Bellbrae Hall is a great venue to see lots of different artists – we love Mark Bagally's incredible oils and watercolours especially.
We also loved Sue Corbets studio, overlooking the ocean from the cliffs of Fairhaven.  A professional sculptor, her bronze, resin and marble works are wonderful against the backdrop of that dramatic view.
Of course, there are many more to choose from and you will no doubt have your own preferences.  Make sure you are prepared for the weekend by checking out the brochure either from the page here, or by picking up a hard copy of the map at:
visitor information centres
the Surf Coast Shire Council office in Torquay
and many other community outlets
Even better, download the new Alpaca Map via the QR code below for a digital experience to carry with you.
To use the QR code:
On some phones you can hover your camera over it, then follow the instructions that appear on your screen,
or use a QR code reader (you might need to download one from wherever you get your apps).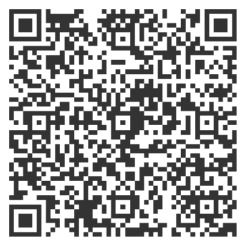 The digital map can help you plan out your Arts Trail weekend:
Familiarise yourself with the four geographical zones of the Trail.
Find out which individual artists are taking part and where.
Follow the links to see more of their work.
Select a zone category and then tap on the drop down menu that appears below to search any one of the 7 sub categories (painting and illustration, sculpture and metalwork, fibre arts and craft, ceramics, glass and wood, installation and performance, photography and multimedia)
Looking for accommodation for the weekend?
We have four pet friendly holiday cottages in the beautiful bushland of Bambra, perfectly placed to visit the 2019 Surfcoast Arts Trail.  Each of them has their own private yard for an incredible pet friendly accommodation experience where your dog is as welcome as you are.
Our three bedroom Villa cottage has just become available for August 9 – 11.  If you'd like to book, feel free to contact me via email or you could book online now.  It's sure not to last!