It's a little different from what shoulda been the Dog Lovers Show 2020!
It was so sad to have the Dog Lovers Show postponed this year.  We know we have the best dog friendly accommodation in Victoria and we were busting to tell you all about it.  Big call, we know!  But our past guests can't all be wrong.  They kindly gave us a total of 9.9 rating, reviewing us to Number one in Australia in the Gold List of Star rated properties this last year.  Wild.
If you've not heard about us before, this is what we wanted to show you at the Dog Lovers Show back on that first weekend in May…
Got your attention?
If we'd been able to meet you at the Dog Lovers Show, we'd have raved about how much you and your dog/s would love it here….and about our $100 Dog Lovers Show booking bonus gift for anyone booking a stay with us.  Bigger and better this year too!
Here's the deal
Make a booking or purchase a voucher to stay with us any time in the next 12 months and you will be locked in for your $100 bonus gift when you arrive.
If you prefer a voucher, the minimum purchase price is $200.  You are welcome to pay more than this if you'd prefer, ie for a full weekend or for one of our specials or packages.
You must have secured your booking or voucher by 11.59pm June 5, 2020 to qualify for the $100 gift.
Even BETTER – if you purchase a voucher or book with us, the Dog Lovers Show will throw in a Free Ticket to the next Dog Lovers Show to sweeten the deal.  Just ask us how.

How cool is that?
OK – the important bit – your $100 bonus gift:
Your choice will look like one of these: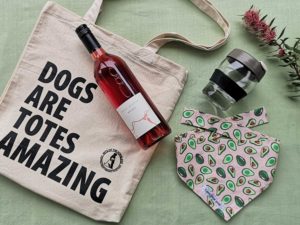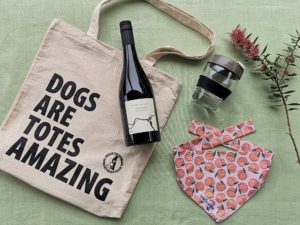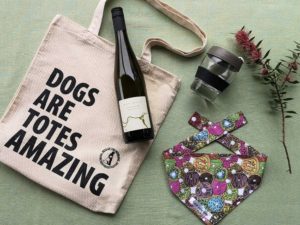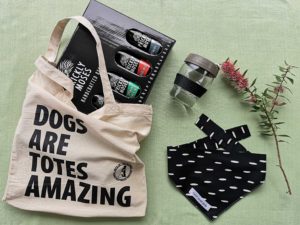 Vouchers and bookings which qualify for the $100 gift are on sale from now until 11.59pm June 5, 2020. 

To purchase your voucher, contact Di on 03 5288 7399 or email us at stay@countrywidecottages.com.au
T'c & C's
bonus gift offer is not available with any other discount offer
voucher must be purchased by by 11.59pm June 5, 2020

voucher valid for 12 months
must mention "The Dog Lovers Show Special" when making the purchase
minimum voucher purchase price is $200
valid for new bookings only
booking is a minimum of two nights stay
you choose ONE bottle of wine (Riesling, Rose or Shiraz) OR a six pack of beer
your choice of ONE bandana, any size or colour in the range.  If you'd like to purchase more, we can help you when we chat.
Looking for more info?
This is the post we wrote back on May 1, 2020 when we would have been at the Dog Lovers Show in Melbourne – SUCH a long time ago!
Best dog friendly accommodation in Victoria?
You bet we are!  Right now, we should be surrounded by 35,000 of you lovely dog lovers, going hoarse from telling so many of you about our great dog friendly holiday place just down the road in the Otways!
But – we still have each other right?  You are there and we are here – all of us just dying to get back to the good old days when we can see your happy dogs racing up and down the dam paddock, jumping out of the dam, shaking off the water and leaping straight back in again.    We so miss seeing your dogs happy faces out of your car windows as you arrive – excited and wondrous already at the myriad of new smells!
Of course, if you've brought them before, they are BESIDE themselves, knowing they are back in doggy paradise, itching to escape the car and to get down to the serious business of sniffing, galloping, exploring, doing excited wees on the trees as messages of joy left to the lucky ones following them…and sticks!  SO many sticks.  Collapsing at days end, full of blissful memories in front of the fire.  Sleepy eyebrows and noses twitching, dreaming, working up the energy back for wake up time.  AHHHHhh.  Yep – those were the days.
But we all know, they will return.  Someday, we don't know when, we will be able to get together again.  Let's face it, your four legged mates have quite likely been very high in the stakes of maintaining your sanity through these ridiculous COVID days.  They deserve the break as much as you do!  And we know you need a bit of something to look forward to…we know we sure do!!
Right now, we have to do the right thing and stay away from each other.  That's no news.  But we thought we could pretend we are there, chatting to you all and regaling you with all the wonders of a few days or more blissful escape here at Countrywide Cottages with your best mate/s.
Just so you know:
dogs are welcome inside
dog beds, blankets, bowls, home made treats and furniture cover sheets for the couch potatoes provided
huge fenced yards outside each cottage
four cottages on site with 50 + meters of bush land between you and the next cottage – no other dogs on the opposite side of your fence
long bush walks around the property and up into the Otway Forest Park (dogs welcome there)
numerous fenced off leash areas
enormous yabby dam for doggy swims
an insane amount of new smells and fun tastes (note, for evening comfort, avoid too much kanga poo!)
oh yes – and gorgeous four star accommodation for everyone in fully self contained, warm and light filled cottages!
Chat with Di soon about your booking or voucher.  And of course, we will be at the Dog Lovers Show Melbourne 2020 now rescheduled for November 27 – 29.   See you there!!  Keep an eye on them on Facebook and Instagram