It's been quite a ride hasn't it!  But we are not only surviving COVID in the Otways, we are planning on thriving!  Taking every precaution, we are confident that we are able to provide you with a wonderful spot for a break from the COVID madness here in the gorgeous Otways.
Our little place has been a hive of activity over the past ten weeks with Stuart painting everything in sight, upgrades to the Igloo, much work in the gardens and effort putting in grass where there's been none before, cleaning, scrubbing and just generally preparing for your return.
There's been quite a bit of action in the office too – we've been formulating a few changes to policies and procedures – sounds exhausting doesn't it – let me tell you, it has been!  But oh so worth it to feel ready to bring our business back to life with as much confidence as we can to sail through the next few months.
Countrywide Cottages has worked hard to gain compliance with the new Hospitality Industry Guidelines for Coronavirus (COVID-19) issued by the Victorian State Government on May 26, 2020. These new measures are designed to protect the health and safety of our staff and visiting public, and you can rest assured that your well-being is our priority when you visit us.
We are just so excited to see you again!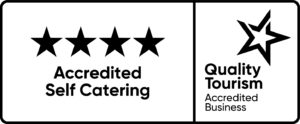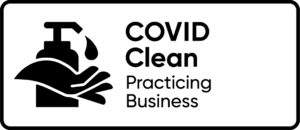 So – whats new around here:
Our new policies and proceedures…
• This is the obvious one….if you've had any symptoms or been in contact with a known COVID sufferer, please do not come. We have amended our last minute cancellation policy so that there is no penalty if you need to cancel for this reason, even if it comes on the day of your expected arrival. We will provide you with a voucher for the value of monies paid to use any time in the next 12 months instead.
• While you are here, we are offering touch-less check in and out – we will be leaving notes with directions and keys outside the Reception door. It is always our hope that we can be here to greet you and answer any questions you may have….we promise to do this at an appropriate distance! Stu is dying to chat with someone other than me, so feel free when you see him around about!!
• Payment of balance – I killed the EFTPOS machine before we closed, so I'm a bit mindful of the nasty effects of eucalyptus spray on it!  To manage the payment of your balance, please deposit directly into our account prior to your arrival. Our BSB is 633000, account number 125007252. Of course if this is an issue, we can certainly process via the revived and glad wrap coated EFTPOS!
• If you wish to purchase any items from Reception, you are welcome to do so – we would just ask that you keep the number of people of your purchasing party in Reception to two.
• I'm sure you will respect everyone's need for a bit of space – part of the joys of being here. We just ask that if using the shared facilities, that you take your own BBQ equipment etc from the cottage and take your food back to the cottage to eat. We haven't closed the games room, but will leave it up to you to gauge your comfort in using that. We endeavor to keep the area as clean as possible, but obviously cannot be certain that everything has been disinfected in between each use.
• The off leash paddocks and dam area are big enough to be able to offer you easy social distancing!
• We've decided to swap our doona covers for the 'three sheet method' of bed making used in the big hotels for now.  It's not our favourite idea, but we need to reduce the flapping of bed linen when the beds are changed.  Have you ever tried to change a doona cover without flapping (not to mention a fair bit of swearing)?  It's now white sheets over the top of the doona.  So our beds aren't as pretty as we'd like – we hope you will indulge us in this one.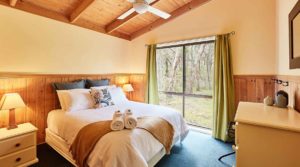 • And lastly – please remember that we are part of a lovely community living here in Bambra and surrounds. We know you will be respectful of the people around us, and just ask that you just be conscious that local people may be a little nervous about visitors coming in from elsewhere.  You will see that the various businesses around are doing their utmost to provide a great service while trying their best to protect both you as well as themselves and their staff.
What can I eat?
In terms of food options for you while you are here, The Otway Harvest Trail website is a good one – we've updated it with a front page showing all the businesses open. This will be amended when changes are made, so you can be sure it's in as close to real time as it can be. I'll have an Otway Harvest Trail brochure here for you and it will include a new page I'll keep updated with the latest opening hours and food availabilities.
There are some great restaurants in Lorne open for bookings again.  YAY!  Have a look here for Zomato listings – our faves, Movida Lorne (Spanish Tapas) and Ipsos (Sensational Greek).
Is there anything safe to do down there?
One thing about the Otways, it's just full of magnificent, clean glorious space!   There are many natural attractions still available to you – the waterfalls and national park, the beaches.  You'll find lots of inspiration for fun both onsite and beyond.