How can it be POSSIBLE????? Time has rolled around to the 2016 Dog Lovers Show already? It's incredible how time flies isn't it!
Yes – the 2016 Dog Lovers Show is almost upon us.  Three amazing days of fun, folks and slightly feral furry ones at the Melbourne Exhibition Buildings.  We are pumped and ready.
This year we have a fabulous 2016 Dog Lovers Show offer.  When you make a booking to stay with us any time within the next 12 months, upon arrival on your holiday with us, you will receive a bottle of gold medal local wine from Dinny Goonan Wines, a pack of delicious Panforte from Irrewarra Sourdough Bakery (yum) and a fabulous set of Eat and Drink dog bowls for your pooch as their gift from us.  Your booking needs to be made by the end of May.  Just mention the Dog Lovers Show to qualify.
Not only this but we have an amazing prize for the competion we are running in conjunction with our partner Caitlin Maloney of Ragamuffin Pet Photography.  Come and see either of us at the Show (or even better, both of us!!) to enter :
four mid week nights accommodation at Countrywide Cottages, our beautiful bushland pet friendly accommodation just 25 minutes drive inland from Lorne
a visit during your stay by Caitlin who will spend an hour or two bribing and playing with your dog/s, while getting the most incredibly natural shots of them
a $100 voucher towards the printing of your beautiful new personal wall art when you have decided which of the gorgeous photos you are going to have printed
The total value of this prize is a massive $1000
The offer is valid for off peak periods only (excludes school holidays and long weekends) and expires April 30, 2017.  It is non transferable, not redeemable for cash and cannot be altered to weekend night stays.
And see…..I told you Caitlin was good…..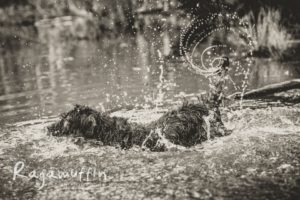 You'll find us on Stand 152…we'll be wearing the green shirts you see us wearing so well above…just come in the main entrance and turn right till you see us.  You will find Caitlin and the Ragamuffin Pet Photography team nearby at Stand 320…..for that, you'll need to turn left and look right!  We'd love to see you so please pop by and say hello.