If you feel like tantalising your taste buds at the fantastic Eat Local Month in April, then let Countrywide Cottages be your perfect accommodation base near the Great Ocean Road during the food extravaganza.
You'll be able to sample the richness of the region's local produce including cheese and wine before heading to your comfortable cottage to relax and plan the next day's culinary adventure. And, because our accommodation is pet friendly, you can even bring your canine companions along for your holiday.
At Countrywide Cottages, we love where we live. Our accommodation, a popular choice for Great Ocean Road visitors, is nestled in Otway bushland a mere 25 minutes north of Lorne. And we get a real kick out of sharing our beautiful environment and region with guests. That's why we're excited about Eat Local Month – it gives people a chance to discover the bounty of local produce and the talent of chefs, winemakers, brewers and artisan producers from the Surf Coast and Otways.
We know they're amazing, we're chuffed Eat Local Month is capably spreading that message through a busy schedule of events across the region throughout April and we take our hats off to the festival organisers.
From mini farmers' days the kids will love, to an eight-course walking-trail feast crafted by our to
p chefs, local `gumboot' farm tours, a cider masterclass, a `garden to table' community feast and community fair, the events are wide and varied and too many to mention. Bookings are filling fast.
Last year's inaugural Eat Local Month kicked off with eight events. This year that figure has grown to 20. It's captured the public's imagination and tastebuds. And it's a welcome spotlight on the great variety of produce grown right here on our doorstep.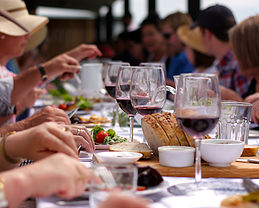 After a festival event packed with flavour, you'll be able to return to Countrywide Cottages to unwind and recharge your batteries again while you plan your activities for the following day in our great little corner of the world.
One thing's for sure, when it comes to accommodation Great Ocean Road enthusiasts won't be disappointed by our high-standard cottages. So please contact us, book a Countrywide Cottages stay and enjoy our region's great produce and beautiful scenery.