It's only three weeks to go for this years 2015 Dog Lovers Show, being held May 1 – 3 at the Royal Exhibition Buildings in Melbourne.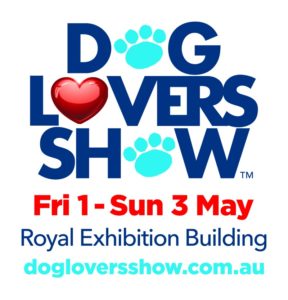 It's to be 25 % bigger in this,  it's third year and we will be there again showing off our beautiful pet friendly accommodation.  We have four tickets to the 2015 Dog Lovers Show to give away on Facebook…just make sure you have 'liked' our page and share the posts you will see over the next couple of weeks to enter.  Good luck!!
While you are there, make sure you visit our stand for our amazing 2015 Dog Lovers Show Special and to enter our competition!
First Prize $1000 value Accommodation, Sleep and Smile Pet Photography package, Tails of Melbourne book and a bottle of Dinny Goonan's fabulous local wine.
There will also be second and third prizes, TBA
Enter the 2015 Dog Lovers Show competition at both Countrywide Cottages (stand 152) & Ragamuffin Photography (stand 320) for double the chance to win!
"…There is no doubt why you have been voted the Best Pet Friendly Accommodation – I can't put in words just what a wonderful time we all had…" Jemima and Mark
"…we have stayed at a number of pet friendly places before with our other dogs and yours definitely comes out on top, without question…" Sue
"It's great to be able to stay somewhere so nice and have the dogs included as part of the family…" Dan, Tracey, Charlie and Don
We think it's rough to have to leave your best mate behind when you need a break. We also think people don't really want to sleep in a kennel.  Our solution – the Best Pet Friendly Accommodation you could find in the county! Our guests think we've managed that, having voted us into the prestigious 5 Paws Rating with Holidaying with Dogs for the past 8 years.  And – we have just been nominated for National Best Pet Friendly Accommodation from the Master Dog Breeders Association, due to be announced at the end of May. We know we have the competition licked!
With just one and a half hours easy drive from the Westgate Bridge, less than half an hours' drive to the coast at Lorne, and sealed road to our gate, we are ideally placed for a break away from your busy lives.
You can be secure in the knowledge that we meet the rigorous criteria of AAA tourism with our 4 Star rating and our Environmentally Friendly STAR Accreditation.  Settled into the great Aussie bush, well apart from each other and a long way from the road, you will be inspired by the absolute peace in and around your cottage.  Look out through the trees, listen to the birds, check out the amazing night sky…rekindle your love of nature.  Take a bushwalk from your cottage door through to the adjoining Otway Forest Park.  Surrounded by all the fabulous tourist offerings of the Otway Harvest Trail, and the Great Ocean Road region, you will be spoilt for choice!
Our cottages are gorgeous.  Offering either two or three bedrooms, they sleep up to 7 people in each (with beds for up to 25 across the four cottages).  One cottage is purpose built for accessibility…often booked to make it easier for an old dog in the holidaying party!
They are fully self contained and all linen is provided as part of the tariff.  We provide home made welcome treats for both humans and dogs alike. Our canine guests are welcome inside and are provided with a bed inside the cottage with blanket, bowls and furniture cover sheets in case they are couch potatoes.
There is a huge area out front of each cottage which is securely fenced to keep your four legged mates or little ones safely within sight.  The communal recreation area is a great spot for a kick of the footy or game of pool while dad works on the barby.
Your dogs are welcome to swim in the enormous dam (also securely fenced) while you have a go at catching some Yabbies.  Our farm animals love human visits and you are welcome to come up and see if the chickens have laid any eggs – finders keepers there.
Take a look at our packages which include a visit from Ragamuffin Pet Photography during your stay, or a paddle on nearby Lake Elizabeth in search of platypus.
We look forward to welcoming you soon to our 'people and pets holiday paradise'!